Power Plant Pump Repair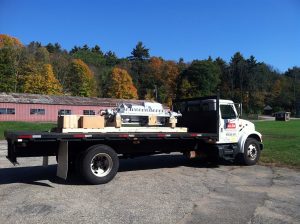 Allen Pump is a complete aftermarket supplier to the United States nuclear Industry for non-safety-related and safety-related pump repairs, upgrades, and pump parts. We maintain a 10 CFR 50 Appendix B program at our facility in Monroe, North Carolina, and our 20,000 square foot facility is capable of providing factory-direct parts for almost all pump OEMs. Regardless of the extent of your nuclear plant needs, we'll be glad to provide a solution that enhances your production output.
Here at Allen Pump, our staff prides itself on producing the highest possible quality of pump parts by utilizing our modern CNC machine tools and process equipment. Our 120,000 square foot facility in Barre, Massachusetts, has large CNC machining centers and other machine tools to enable safe handling of even the largest non-safety related pumps at your plant. That way, you'll be able to tackle major pump projects at your power plant with confidence in the security and safety of your machinery and the people who operate it.
We Specialize in Reverse-Engineering Pump Parts
With more than 100 years of combined experience under our belt, our
company is a proven leader in reverse-engineering pump parts for all leading manufacturers of pumps to the nuclear industry. Depending on which option is most convenient for your preferences, we can reverse-engineer your parts at your site or in one of our facilities. We also provide field service supervision or turnkey crews to oversee or perform pump overhauls at your plant, so you'll have access to monitoring from skilled professionals when you work together with our company.
Nuclear Power Pump Parts for Clients Nationwide
Allen Pump is actively pursuing our ASME "N" and "NPT" stamp to provide plants in the United States with a new source for nuclear power pump parts. As part of our continuing effort to serving industrial clients nationwide, we aim to provide additional options for code parts and repairs. By matching the quality of parts created by original equipment manufacturers at a fraction of the cost, we keep power costs down while enabling greater production for less of an investment.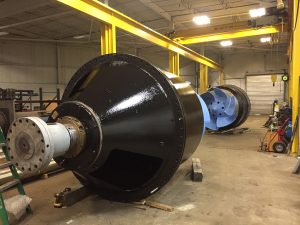 As a more economically viable alternative to large OEMs that are expensive and nonresponsive to your needs, we are a high-quality pump part manufacturer that generates all of our own parts. We know what it takes to keep a nuclear plant running smoothly, so you can be confident that we'll provide you with the affordable solutions needed to generate power without breaking the bank.
Contact our staff to learn more about our power plant pump repair. We provide service to clients nationwide.